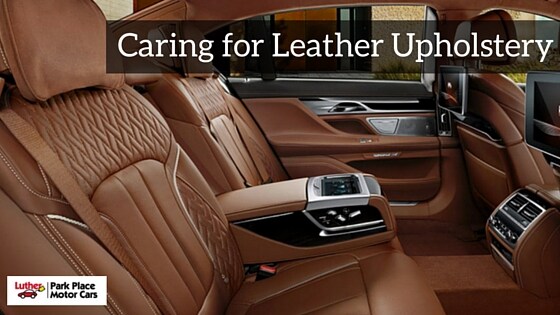 Part of the fun of purchasing a high-end car, such as a BMW, is sliding into the luxurious interior, enjoying the sleek design and settling into comfortable seats. If your BMW features leather seating surfaces, you want to keep them clean and looking like new – both so the inside of your car always looks nice and also to avoid expensive upholstery repairs and replacement.
If you aren't already in the habit of regularly cleaning the leather in your car, springtime is a great time to begin incorporating new cleaning routines into your schedule. Don't worry – this is a very easy process that doesn't take much time and can keep your investment in great shape for a long time!
A good practice is to put together your leather-cleaning kit and keep it handy for when you wash your car in the driveway on a pretty day (maybe not any time in the next couple months… but soon). You don't need to clean your seats every time you wash you car, especially if you're a loyal car washer. About once every three months is a perfect schedule to follow.
What you'll need:
Soft white rags (old white tee shirts are good for this)
Towel
Quality, soft-bristled brush
Water-based leather cleaner (free of petroleum solvents, silicone oils and gloss agents)
Leather conditioner
Optional: Leather wipes
What you do:
Vacuum the interior of your car completely. Use as many fancy attachments as it takes to get your seats clear of any dirt and dust hiding in the crevices.

Using your white rag dipped in water, wipe the leather surfaces gently to remove grime, dirt and residue. Immediately dry the seats off with a dry towel.

Use a fresh cloth or the brush to gently work the cleanser into the leather (after you've tested the cleaner on a small, inconspicuous spot and waited 24 hours to check for discoloration). Make sure you keep the foam for at least 10 minutes before wiping it away with a dry towel.

Clean the seats and any leather trim your car may have.

Finish with a leather moisturizer/conditioner, applying it with a dry rag.
BONUS: For quick cleans in between your three month cleanings, keep a canister of leather wipes in your car or garage and break them out to give your interior an extra dose of clean.
______________________________________________________________
If you're looking for a shiny new car with leather interior to clean, check out our inventory of new 2016 BMWs at Park Place BMW. Whether you're looking to turn heads in a 2016 BMW M4 convertible or get the whole family from place to place in style with a 2016 BMW X1 SUV, we have it waiting for you!
Browse our entire inventory online
After you find something you love (it shouldn't take long!),
contact us to schedule a test drive
and learn more about your future car.